In this period, we have the transition from the diet of 6-8 months, to the diet after 12 months which is essentially that of the rest of the family.
First, do not mash the food but melt it with a fork. Then you will cut small pieces depending of course on the development of teeth. CAUTION, however, it is important that your baby eats under supervision so that they do not choke. Prefer to give snacks from soft foods such as fruits, pasta, potatoes. Avoid nuts, corn, carrot pieces because the baby may choke.
At the age of 8-9 months it would be good to teach your baby to drink liquids from the glass with a mouthpiece first and then normal. Give some water first and then you can give milk or a small amount of juice. In general, avoid large amounts of fruit juices in the first year of life and prefer fresh whole fruits. The child at the age of one can eat the food that the whole family eats. That is why it is important for all members of the family to eat healthily so that the young child can adopt proper eating habits.
Eat plenty of fruits and vegetables and avoid fried and fatty foods. Eat a variety of foods the whole family. Little by little the toddler will acquire their own food preferences that must be respected. The variety of foods and good quality will provide the child with the necessary nutrients to develop properly. 
When can my baby eat alone?
The answer is "when they are ready" and this varies from child to child. When you see your baby trying to get the spoon to eat on their own then it means you should start feeding on a plate. Always under supervision: put a little bit of food on your baby's plate. They will definitely get dirty, they will make the table and their chair dirty but don't be disappointed. They will learn eventually. Be patient and encourage the baby to eat, enjoy it and have fun.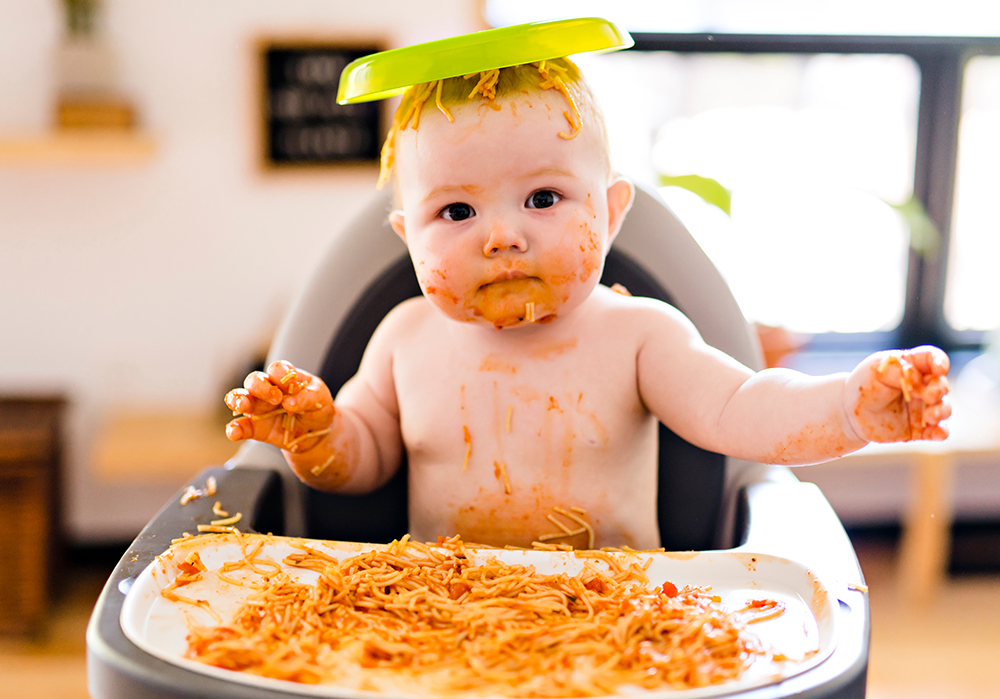 Authored by Dr. Adamos Hadjipanayi, Paediatrician